What is Health Behavior Coaching?
Health Behavior Coaching teaches and empowers you to understand and change your behaviors that relate to your health and well-being. You will work with a Board Certified Behavior Analyst to help you identify your individual health behavior goals that align with your personal values and strategies to help you reach those goals. You will learn to identify what specific behaviors lead you towards and away from health; and how to identify and predict behavior patterns that impact your health. You will be given simple and effective strategies to change your behavior to achieve your health goals and maintain those changes long-term.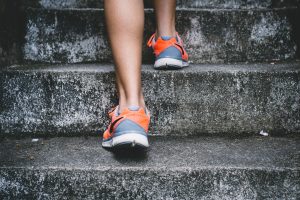 Together we identify where you are, where you want to go, and how to get you there. Services are tailored to address your specific needs. Goals are broken down into achievable steps; each step is important and celebrated. Behavior strategies are explained and practiced so that you feel confident in how to use the tools effectively.
So often what prevents people from living healthy lives is not a lack of information or education on health but a lack of education on how to manage the behaviors that influence health.
Health Behavior Coaching focuses on long-term, sustainable behavior change that will work for you. Learning effective strategies to change your behavior will have a lasting and positive impact on your health and well-being. The treatment approach is influenced by Acceptance and Commitment Therapy (ACT), a branch of Behavior Analysis; ACT uses acceptance and mindfulness strategies to help people move toward their valued behavior. Research continues to point to ACT as a leading method for health behavior change.
Click here to read the article entitled: Can Behavioral Science help Improve Your Health?
How does Health Behavior Coaching work?
Health Behavior Coaching begins by filling out an intake form followed by an initial meeting. Meetings can take place in your home, a café, gym, library or over the phone/web. During our initial meeting, we will talk through some of your current and previous health goals, and how your core values relate to those goals. We work together to pinpoint actions that lead you towards health and actions that lead you away from health and identify ways the environment influences your health behavior. Health behavior goals are focused on the actions rather than the long-term outcome (e.g., exercise for X number of minutes a day rather than lose weight). Goals are broken down into achievable steps and progress is monitored. After identifying what goals you would like to work towards and where you are with your current levels, I explain a variety of behavior-change techniques. I will share basic principles of behavior and specific evidence-based strategies that reliably change behavior. You will be able to choose a method(s) that fits into your lifestyle. Support will be provided to help you implement these changes and measure progress. Some of the techniques we may explore together include: self-monitoring, self management, goal setting, identifying values, performance feedback, contingency management, using reinforcement, environmental changes, social accountability, and more.
Testimonial:
"Brianna's professionalism and insights have helped me to change my life. I appreciated the skills I learned with her support and will continue to use the behavior techniques as I continue in the future. She was always on time, supportive, and helpful. Her training and intelligence shine through. I really appreciated how she was both professional and personal, supportive with good boundaries. For me, she is a role model as well as a teacher. I will continue my process of identifying new goals and behaviors to become more healthy."  -Former client
Interested in finding out more about Health Behavior Coaching? Contact me to set up a FREE 1/2 hour phone consultation.